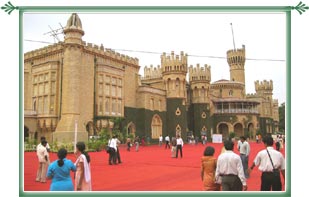 Bangalore, the fastest growing city of India, comprises of a dynamic blend of people, belonging to various religions, castes and communities. With the introduction of information technology in the city, it has assumed an international character. IT professionals not only from the various parts of India, but also that of the world, are migrating to the city. This has led to Bangalore becoming more like the melting pot of various cultures. Read on to know more about the people and lifestyle of Bengalooru, India.
On one hand, you will find glitzy malls playing host to the rich and affluent people of the city. On the other, you will find the auto rickshaw drivers, rickshaw pullers, etc, shopping at the roadside vends. However, one thing is common amongst all the people of Bangalore, i.e., the spirit of living life to the fullest. Be it the lower class people or those belonging to the middle or upper class, all have found different means of getting on with life and enjoying themselves.
Bangalore has also acquired the status of an educational city. Thousands of students come to the city every year to study at the undergraduate or the postgraduate level. In short, the city has become an amalgamation of people, belonging to different cultures, educational backgrounds, economic background, etc.