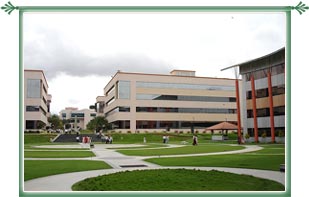 Bangalore is known as the 'IT Capital of India' and the "Silicon Valley of India. It boasts of the highest concentration of software companies in India. Almost all the leading IT companies like, Infosys, Wipro, IBM, etc, have their headquarters in Bangalore. In the following lines, we have provided information about the major IT companies in Bangalore. Check out each and every major software & IT Company in Bengalooru, India.
Infosys
Infosys Technologies Limited is an IT Company founded by N. R. Narayana Murthy. Established in Pune in the year 1981, the company later moved its headquarters to Bangalore. Today, Infosys boasts of nine development centers in India and over 30 offices worldwide. It is the first Indian company to be listed on NASDAQ. The corporate headquarters of the company are in Electronics City on Hosur Road, Bangalore.
Wipro
Wipro is one of the leading IT companies in India. It is the World's first CMMi Level 5 certified software services company and the first company outside USA to receive the IEEE Software Process Award. Wipro also holds the distinction of being the largest independent R&D Services provider in the world. It is also the only Indian company to hold a rank amongst the top 10 global outsourcing providers in IAOP's 2006 Global Outsourcing 100 listing. The corporate headquarters of Wipro are at Doddakannelli, Sarjapur Road, Bangalore.
IBM
IBM Global Services is the largest information technology services and consulting provider in the world. IBM started its operations in India in the year 1992. Since then, it has opened offices in 14 cities, including regional offices in New Delhi, Mumbai, Kolkata and Chennai. The regional headquarters of IBM are in Bangalore. It is located in Subramanya Arcade on Bannerghatta Road, Bangalore.
Accenture
Accenture counts amongst the premier management consulting, technology services and outsourcing companies in the world. It started its operations in India in the year 1987. Today, Accenture has set up offices in more than 40 countries of the world. The main office of Accenture in Bangalore is on Cunningham Road.
iGate Global Solutions
iGate Global Solutions is an IT company, providing services like consulting, IT Services, Data Analytics, Enterprise Systems, BPO/BSP, Contact Center and Infrastructure Management Services. The corporate headquarters of iGate in India are at Jakkasandra, Koramangala Ext, Bangalore.