Bangalore art galleries satisfy the artistic streak of people. Know more about art gallery in Bangalore /Bengalooru, India.
Bangalore Art Galleries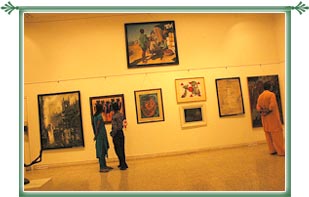 The art lovers visiting the Garden City of India need not despair. There are numerous art galleries in Bangalore that showcase beautiful pieces of art. Bangalore art galleries also serve as a window for people to come face to face with the tremendous talent of the local artists. In the following lines, we have tried to cover each and every popular art gallery of Bengalooru, India.
Abstract Art Gallery (Cunningham Road)
Alliance Francaise (Vasanthnagar)
Bangalore Art Gallery (CMH Road, Indiranagar,)
Bhavan's Art Gallery (Race Course Road)
Crimson (Infantry Road)
Corridor of Colors (Central Park Hotel, Dickenson Road)
Da Vincian Art Gallery (Jayanagar)
Drishti Art Gallery (Dickenson Road)
Gallery Lavelle (CMH Road, Indiranagar)
Galleryske (The Presidency, St. Marks Road)
Gallery Sumukha (BTS Depot Road, Wilson Garden)
Images Art Gallery (Infantry Road)
Art Complex (Kumara Krupa Road)
Max Mueller Art Gallery (Lavelle Road)
Renaissance Art Gallery (Cunningham Road)
Sakshi Gallery (The Presidency, St. Marks Road)
Samkrut Art School and Gallery (K H Road)
Touchstone Arts (Commercial Street)
ITC Hotel (Windsor Sheraton & Towers, Golf Course Road)
Westminister Art Gallery (Windsor Manor Sheraton, Sankey Road)