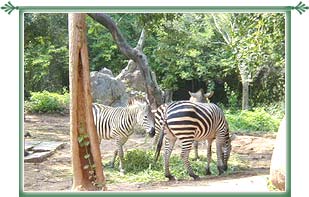 Bannerghatta National Park is situated at a distance of approximately 21 km from the Bangalore city of India. Situated amidst picturesque environs, the national park is well renowned for its lion and tiger safari. The other attractions of Bannerghatta National Park include its crocodile and snake farm. Bannerghatta National Park was established in the year 1971 and spreads over an area of 104 sq. km. Ten reserve forests of Anekal Range of the Bangalore Forest Division come under this national park.
One of the famous picnic spots near Bangalore, Bannerghatta National Park houses bisons, lions, elephants, panthers, etc. A pet's corner as well as a museum is also situated inside this national park. Lion safaris are also organized at request. Bannerghatta National Park boasts of a rich flora, comprising of the zizyphus, jalari, neem, tamarind, chujjullu, sandal, etc. If you want to experience the beauty of the wild animals in their natural habitat, this national park is the just the place for you.
Butterfly Park
One of the major attractions of the Bannerghatta National Park is a Butterfly Park, the first of its kind in India. The park is a combined effort of the Zoo Authority of Karnataka, University of Agricultural Sciences and the Ashoka Trust for Research in Ecology and Environment (ATREE). Union Minister of Science and Technology Kapil Sibal inaugurated the park in November 2006. Spread over an area of 7.5 acres, it comprises of a butterfly conservatory, a museum and an audio-visual room.
The butterfly conservatory is a circular enclosure stretching over an area of 10,000 sq ft, covered by a polycarbonate roof. There are approximately 20 species of butterflies at the conservatory, which has an adjusted environment that suits the butterflies. The setting is entire tropical, with humid climate and an artificial waterfall. The flora of the conservatory includes those plants and shrubs that attract butterflies. As you move forward from the conservatory, you will come across the second and third dome, which house a museum. The museum has numerous dioramas and exhibits on display.