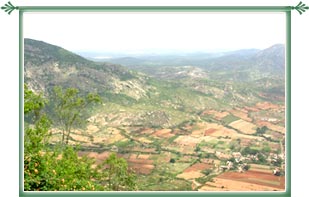 Nandi Hills serves as the perfect weekend getaway for the Bangaloreans. Situated at a distance of approximately 65 km from the Bangalore city, this hill station was once the summer retreat of Tipu Sultan, the Emperor of Mysore, and later, the British. Infact, it was under the British rule only that Nandi Hills was developed as a popular hill station. After climbing somewhere around 1,175 steps, you reach this beautiful hill station. Given below is more information about the Nandi Hills near Bangalore, India.
Main Attractions
The following places are a must see at the Nandi hills near Bangalore.
Tipu's Drop
Tipu's spot is a 600-meter high cliff. It is believed that during Tipu Sultan's reign, the prisoners, to whom death sentence was given, were pushed down from this cliff only. However, one can get spectacular views of the valley from this point.
Yoga Nandishvara Temple
A Chola temple, Yoga Nandishvara stands adorned with an inscription of Shivaji's son, Sambhaji. Dwarapalakas, the splendid metallic figures housed in the temple, are also worth seeing.
Other Attractions
The other places worth visiting in and around Nandi Hills are Gandhi Nilaya, the Nehru House and Amrita Sarovar, a beautiful lake.
How to Reach Nandi Hills
By Air
The nearest airport from Nandi Hills is Bangalore.
By Rail
The nearest railhead is Chikkaballapur.
By Road
Nandi Hills is well connected by road to Bangalore and Chikkaballapur.
Nandi Hills Accommodation
Hotel Mayura Pine Top Nandi Hills, Guest House of the Horticulture Department, PWD Accommodation