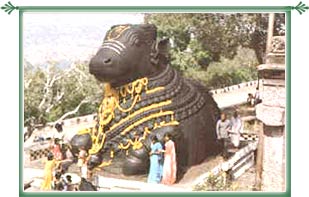 The Bull temple of Bangalore is dedicated to Nandi Bull, the vahana (vehicle) of Lord Shiva. Situated in Basavanagudi, this temple has been built in the Dravidian style of architecture. Kempe Gowda, the founder of Bangalore, got the Bull temple built during his time. This temple counts amongst the oldest temples of the city and draws devotees from all over the country. Read on to know more about the Bull Temple of Bangalore, India.
There is huge idol of Nandi Bull inside the temple, measuring 4.5 m in height and 6.5 m in length. This idol is said to have been carved out of a single rock. The bull also has a small iron plate on its head. As per the tradition, this plate prevents the bull from growing. Providing a great backdrop to the statue are the idols of God Surya and Goddess Chandra, on their chariots. It is believed that the Vishva Bharti River originates at the feet of this statue.
The legend goes that the Bull Temple was built to appease a bull that used to consume and destroy all the groundnuts and peanuts cultivated in this area. It is also said that after the temple was built, the bull stopped damaging the crop. As a celebration of this incident, the farmers of Basavanagudi organized a Groundnut Fair (Kadalekai Parase), near the temple. This fair continues till date and is attended by the people of Bangalore in large numbers.