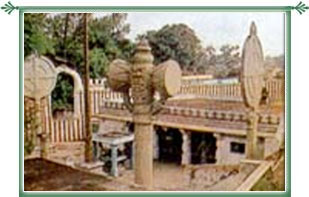 Sri Gavi Gangadhareshwara Temple was cut out of a rock somewhere around the ninth century. It was later renovated by Kempe Gowda, the founder of Bangalore. Dedicated to Lord Shiva, this temple is situated in the Gavipuram-Guttahalli, about 3 km from the City Market. Shri Gavi Gangadhareswara Temple of Bangalore houses a unique image of Agni, the God of Fire, probably the only one of its type in the entire South India. To the left of the main entrance, is a splendid image of Shakti Ganapathi, with 12 hands. There are four monolith pillars in the courtyard, which represent Damaru, Thrishula and two fans.
A natural monolith rock formation, the Sri Gavi Gangadhareswara Temple of Bangalore is visited by thousands of devotees every year, in the month of January. They come to Bangalore on the sacred day of Makar Sankranti to witness a unique phenomenon. On this day, for one hour, the sunrays fall on the Siva Linga, after passing through the two horns of the image of Nandi Bull, the vehicle of Lord Shiva.
The architects of Sri Gavi Gangadhareshwara Temple deliberately planned it in such a way that on Makar Sankranti, the sun's rays always pass through Nandi's horns, while lighting up the Shiva Lingam. This unique phenomenon can be witnessed only for one hour i.e., between 17.00 hrs and 18.00 hrs on this particular day.