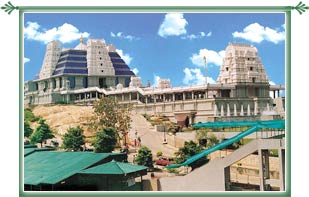 Just like all other Iskcon temples, Bangalore Iskcon temple is also dedicated to Lord Krishna. It is situated to the west of the Chord Road, on a seven-acre hillock, known as the 'Hare Krishna Hill'. The Iskcon temple of Bangalore was built to commemorate the birth centenary of the founder of ISKCON, Sri Prabhupada. It is built in the Neo-Classical style, which combines the conventional elements of temple architecture with modern high-tech amenities. Read on to get more information on the ISKCON Temple of Bangalore, India.
One enters the beautifully decorated Rajagopuram through patterned arches and brilliantly illuminated artificial waterfalls. There are four 'gopurams' inside the temple, each of them connected to the other by a striking glazed-glass canopy. This entire complex forms the 'Hari Naam Kirtan', a 10,000 square feet hall adorned with magnificent ceiling-paintings.
The other attractions of the Bangalore Iskcon temple include ISKCON Vedic Theatre, Vedic museums and exhibit areas, a lecture hall and beautifully landscaped gardens. There is also a unique open-air amphitheatre, where concerts and festivals are organized.