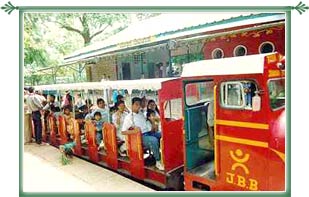 Bangalore Bal Bhavan is a beautifully planned amusement park as well as a recreation center, designed for children. There is a small toy train inside the park that runs on a track of almost 3/4th mile inside the beautiful Cubbon Park. Apart from the train, the other attractions of the Bal Bhavan include a Dolls Museum, which boats of a rich assortment of dolls and toys collected from different parts of the world. Read on further to know more about the Bal Bhawan of Bangalore, India.
A 20 million year old fossilized tree adds to the appeal of the park. The tree was gifted to the Bhawan by the Geological Survey of India. There are also facilities for boating inside the Bhavan, along with a small fair ground and a children's park. The park has swings, horse rides and tree houses to keep the children busy and occupied. Hobby classes, like painting, arts and crafts, etc, are also organized at the Bal Bhavan of Bangalore.
The Vijayaranga Theatre situated inside the park organizes children's film shows and theatre performances on a frequent basis. So, if you are going to Bangalore along with your kids, make sure to visit the Bal Bhavan.