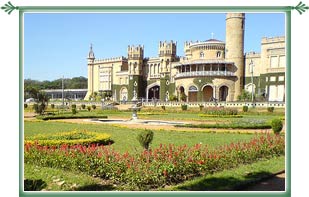 Bangalore Palace is situated in the Palace Gardens, at the heart of the Bangalore city of India. Built in the year 1887 by Wodeyar dynasty, it is adorned with magnificent woodcarvings and Tudor-style architecture on the inside. Infact, the palace is quite similar to the medieval castles that were built in Normandy and England. The Windsor Castle of London left a great impression on King Chamaraja Wodeyar of Wodeyar dynasty, on one of his trips to England. Inspired by the Tudor style architecture, he got the Bangalore Palace built in the city.
Once surrounded by beautiful gardens, the palace has now lost much of its original charm. However, it still succeeds in attracting tourists. Fortified towers, Gothic windows, battlements and turrets lend a great degree of magnificence to the Bangalore Palace of India. Mainly constructed of wood, it boasts of splendid carvings and paintings. Today the palace serves as the venue for various exhibitions, concerts and cultural programs held in the city. The ground floor of the Bangalore Palace comprises of a massive open square.
The square is full of granite seats that are adorned with fluorescent blue ceramic tiles. Along with the courtyard is a ballroom, where private parties of the King used to be held. As we move to the first floor, the foremost thing that comes into view is an ornate room, known as the Durbar Hall. The King used this hall for addressing the assembly. Mounted on the hall is a colossal elephant head, while its walls are ornamented with exquisite paintings. One of the walls of the Durbar Hall has a set of windows that are decorated with stained glass.
There is an abundant use of the yellow color in the hall, with the walls as well as the sofa being of the said color. One end of the room houses a screen, which provided a veil to the ladies when they used to sit and watch the assembly proceedings. There are also a number of paintings of Raja Ravi Varma, a renowned artist in the palace. The inner walls of the Bangalore Palace are also festooned with paintings belonging to the mid-19th century. The other attractions of the palace include a dining table of the Diwan of Mysore, Sir Mirza Ismail.