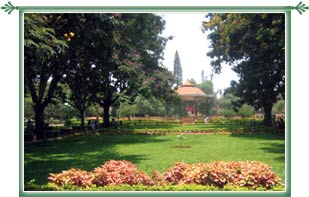 Cubbon Park is situated near Gandhi Nagar in Bangalore. Dating back to the year 1864, the park was laid by Sir Mark Cubbon, the then viceroy of India. Infact, the park has been named after him only. The fairy fountains and an august bandstand were added later on. The Cubbon Park of Bangalore spreads over an area of approximately 250 acres and is quite frequented by both walkers as well as joggers. The engineer of Cubbon Park was by Sir Richard Sankey, the then Chief Engineer of Mysore.
A number of neo-classical styled government buildings are situated inside the park, out of which one is the Vidhana Soudha. The Public Library, the Government Museum and the High Court are also located inside the park. The other buildings in the park include the Cheshire Dyer Memorial Hall, Ottawa Chatter, Children's amusement park, Doll museum, etc. The Vijayranga Theater complex screens children's films and stage plays. Cubbon Park also has a toy train, which is very popular amongst children.
The beauty of the park is such that after visiting it, people have started calling Bangalore, the 'Garden City' of India. Lying in the heart of Bangalore, Cubbon Park stands adorned with trees, flowerbeds and rolling lawns. For those who are looking for some moments of peace and solitude in Bangalore, Cubbon Park is just the place to be. In the evening, when fairy fountains are lit, the park attains a magnificence that is beyond description. Numerous courses are offered at the Cubbon Park, ranging from pottery to aero-modeling.