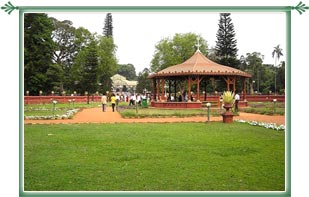 Hyder Ali, the Emperor of Mysore, laid down the foundation of the Lalbagh Botanical Gardens in the 18th century. The gardens were later completed by his son, Tipu Sultan. He imported trees and plants from different countries of the world, like Persia, Afghanistan and France, to add to the wealth of the Lalbagh Botanical Gardens of Bangalore. The gardens encircle one of the towers erected by Kempe Gowda, the founder of Bangalore. Given below is more information on the Lal Bagh Garden of Bangalore, India.
Situated at a distance of approximately 4 km from the M.G. Road, these gardens boast a rich collection of almost 1000 different species of flora. There is also a Glass House inside the gardens, modeled on London's Crystal Palace. Spread over an area of 2400-acre, the Lalbagh Botanical Gardens hold the distinction of having the largest collection of rare and exotic plants in India. The first lawn clock of the country was also set up in these gardens only.
The others attractions of the Lalbagh Botanical Gardens include the Lal Bagh Rock, one of the oldest rock formations on earth. It is believed to be approximately 3000 million years old. The garden is beautifully designed, with lawns, flowerbeds, lotus pools and fountains adding to its splendor. Flower extravaganzas are held every year in the botanical gardens, as a part of the Independence Day and Republic Day celebrations.
The entry to the gardens is free between 6 am to 9 am and 6 pm to 7 pm, for the benefit of the joggers and fitness freaks. There is also no charge for children and disabled throughout the day. The magnificent landscape of the Lalbagh Botanical Gardens truly mesmerized its visitors. Sit by the lakeside, savor the view from the hilltop, take long walks in the nursery and enjoy the beauty of the nature!