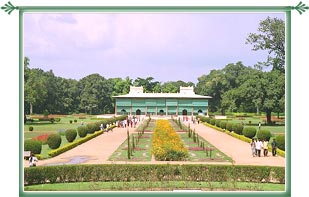 Tipu Sultan Fort was initially built by Kempe Gowda, the founder of Bangalore. The fort was later extended by Tipu Sultan, the Emperor of Mysore. Situated near the City Market, the fort dates back to the year 1537. It was here that Hyder Ali, the father of Tipu Sultan, imprisoned David Baird, along with a number of other army officers of the British. The Fort stands as a witness to the struggle of the Mysore Emperor against the British domination. Read on to know more about Tipu Sultan Fort and Palace of Bangalore, India.
The intricately carved arches of the Tipu Sultan Fort have been built as per the Islamic style. Another major attraction of the fort is the well-preserved Ganapati temple situated inside it. Within the fort lies Tipu Sultan palace, which dates back to year 1790. Built entirely of teakwood, the palace was constructed as the summer residence of Tipu Sultan. The two-storied palace stands adorned with pillars, arches and balconies.
On either side of the Palace are beautiful gardens, which lead to its main entrance. There are beautiful floral motifs embellishing the walls as well as the ceilings of the Tipu Sultan Palace in Bangalore. Tipu Sultan used to conduct the affairs of the state from the eastern and western balconies of the upper floor. After the death of Tipu sultan, the palace was used by the British as their secretariat, till the year 1867.