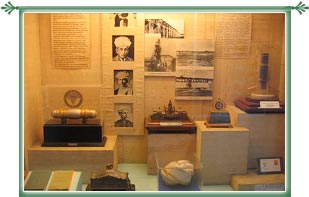 Visveswaraya Industrial and Technological Museum is situated on the Kasturba Road in Bangalore. Named after M. Visveswaraya, the Dewan of Mysore, it comprises of five galleries, namely Popular Science Gallery, Kimbe Paper Metals Gallery, Children's Science Gallery, Electronic Technology Gallery and Engine Hall Gallery. Visveswaraya Museum is the perfect place to get an idea about the working of different types of machines. Given below is more information on Visveswaraya Industrial and Technological Museum of Bangalore, India.
Apart from airplane and steam engine, a number of other items are also on display inside the museum. For example, exhibits on electronics, motor power, uses and properties of wood and metal, etc. If you have an interest in popular science, you can also work on some of the exhibits. A major attraction of the Visveswaraya Industrial and Technological Museum comprises of its mobile science exhibition.
The exhibition remains on a tour of the entire state of Karnataka throughout the year. It provides all sorts of information on the contribution that has been made by science and technology in the field of human welfare and industrial development. Apart from exhibitions on electronics and motor power, it also organizes film shows, demonstrations and seminars on scientific subjects, at regular intervals.