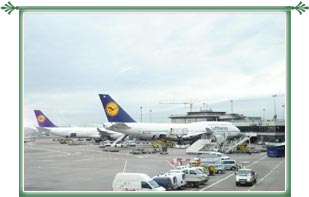 Bangalore International Airport is situated at the Airport Road, at a distance of approximately 6 km from the MG Road, the hub of commercial activities. It is known as the HAL Airport i.e., Hindustan Aeronautics Ltd. Airport. Bangalore Airport handles an average of approximately 70 international and domestic flights on a daily basis. There are two terminals at the Bangalore Airport. Terminal One contains the Departure lounge for the Domestic Flights.
Terminal Two handles Arrival of Domestic Flights and International section for the Departure and Arrival of International flights. Almost all the major domestic airlines, along with a number of international airlines, operate out of the Bangalore Airport of India. It also acts as a major hub for the tourists visiting the southern parts of the country. The following amenities are available at the Departure Lounge at Terminal I of the Bangalore International Airport.
Airlines offices (for Ticket Confirmation and Enquiry)
Cauvery Arts & Crafts (Government of Karnataka)
Indian Airlines counters
Meenu (Shop for saris, paintings, etc)
Post Office
Restaurants
Sankar's (Book Shop)
STD/ISD Booths
Waiting and seating area
An international airport is being constructed for Bangalore at Devanahalli, approximately 40 km from the city. It is estimated that the new airport will be completed by September 2007. After this airport becomes operational, the air connectivity to Bangalore will enhance greatly, as more international airlines will start operating flights to the city.