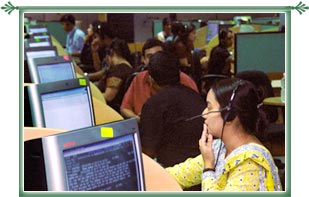 All the modern means of communication are available in Bangalore, ranging from Internet cafes to mobile phones. You will not experience even a single problem while communicating in the city. Read on further to know 'how to communicate' in Bangalore.
PCO (Public Call Office)
PCOs comprise of one of the most common means of communication in Bangalore. One can make a call within Bangalore, to other cities in India as well as abroad from here. For local calls within the city, you just have to dial the phone number. For calling within the country, you will have to dial the STD code of that city and then, the phone number. For calling abroad, you will have to dial ISD code of that country, then city code and finally, the phone number.
Internet Cafes
Being the IT Capital of India, Bangalore has Internet cafes or cyber cafes in every nook and corner. You can easily send and receive e-mail or chat at these cafes, that to at very reasonable rates.
Fax
Most of the PCOs also have fax machines attached to their phones. You can send or receive faxes from here at a charge.
Mobile (Cell) Phones
If you have a tri-band technology mobile phone, you can use it easily in Bangalore. All you have to do is buy a prepaid sim card from any service provider in the city. For this, you will require an identity proof. Afterwards, recharge your mobile with the required amount of balance and have free mobility.
Postal Services
Letters, cards, telegrams, speed post, courier services, etc can also be used as a means of communication in Bangalore.