Read on to know about money exchange in Bangalore as well as money /currency exchangers in the city.
Bangalore Money Exchange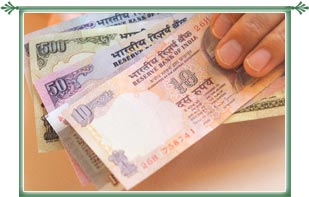 The currency of Bangalore is same as that of any other city in India i.e., rupees (Rs.). It is available in the denomination of Rs. 1, 2, 5, 10, 20, 50, 100 and 500. Rs. 10, 20, 50, 100 and 500 are available in the form of notes. While. Rs. 1, 2 and 5 are available in the form of both coins as well as notes. If you traveling within the city, it is advisable to keep some amount of cash in the form of loose change with you at all times. Getting money exchange in Bangalore does not pose any major problem. To help you in this task, we are providing a list of money exchangers in Bangalore in the following lines.
Money Exchangers in Bangalore
Synergy
Raheja Plaza, Commissariat Road, D'Souza Circle
Pheroze Framroze & Co.
Richmond Plaza, Richmond Circle, Raja Ram Mohan Roy Road
Thomas Cook
M.G. Road
UAE Exchange & Financial Services Ltd
Manipal Center, Dickenson Road
PoundWize Forex Pvt Ltd
Airport Road, Domulr
Centrum Forex
SilverLake Terrace, Richmond Road
Cosmic Credit Pvt. Ltd
MotaRoyal Arcade
Excelsior Travels Pvt Ltd
Harekrishna Road
Greenback Forex Services Pvt Ltd
Mittal Towers, M.G. Road
Lkp Merchant Financing Pvt Ltd.
Barton Center, M.G. Road
Sita World Travel (India) Ltd.
Sita House, Mare Road
T.T. Travels Ltd
Imperial Court, Cunningham Road
Trade Wings Ltd
Mittal Towers, M.G. Road
Weizmann Ltd
Residency Road