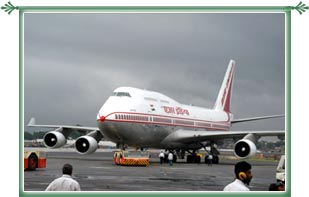 Also known as the Silicon Valley of India, Bangalore is the hub of IT professionals. Apart from that, it is also quite popular as a tourist destination. There are numerous options available for reaching the Bangalore city of India. In the following lines, we have provided information about traveling to Bangalore. Read on to further to know 'how to reach Bangalore'.
By Air
Getting to Bengalooru by air is very convenient. Bangalore airport is serviced by almost all the domestic airlines as well as a few international airlines. Situated at a distance of approximately 6 km from the city center, Bangalore airport is well connected with all the major cities of India like, Kolkata, Mumbai, Delhi, Hyderabad, Chennai, etc.
By Rail
Bangalore City Railway Station has direct trains connecting it with all the key cities in the country. It is also serviced by a number of fast trains and daily express trains.
By Road
Bangalore is linked with the other cities through a number of National Highways. The bus terminus is situated opposite the City Railway Station and is serviced by Karnataka State Road Transport Corporation (KSRTC) buses. One can easily get taxis for commutation purposes.