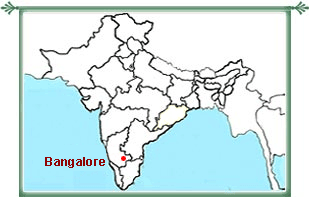 The city of Bangalore lies towards the southeast in the South Indian state of Karnataka. On the northeast of the city is Kolar District, on the northwest is Tumkur District, on the southwest is Mandya District and on the southeast is the state of Tamil Nadu. The geographical location of Bengalooru city of India is such that it lies at an altitude of approximately 920 m. Spread over an area of 2190 sq. km, the city stands positioned at 12.97° N 77.56° E. Read on further to know more about Bangalore location.
Bangalore Urban district is divided into three districts, namely Bangalore North, Bangalore South and Anekal. Bangalore geographical location makes the landscape of the South district a little bumpy, with hills and valleys in between. While, the North one is relatively flatter and more level. The water needs of the city are met by the water reservoirs from the Kaveri basin and Vrishabhavathi and Arkavathi water treatment plants. There are a large number of lakes in Bangalore. Out of the numerous lakes, the most important ones are Sankey Lake, Ulsoor Lake and Yediyur Lake.
The most significant rock unit in the area is the Peninsular Gneissic Complex (PGC), comprising of granites, gneisses and migmatites. The geographical location of Bangalore supports mainly deciduous canopy and coconut trees. Being situated at a high altitude, Bangalore enjoys a moderate and pleasant climate during a major portion of the year.