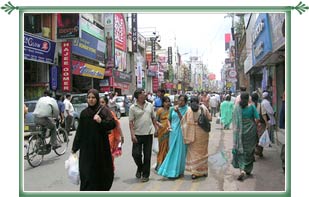 For the shopping enthusiasts, Bangalore is just the city to be. From the small by-lanes of the markets like Chickpet to the swanky shopping malls, Bangalore shopping places offer a wide variety. As regards the question of 'what to buy' in Bangalore, the city has something to offer to everyone. Right from electrical appliances to saris to toys, you can buy anything and everything here. Given below is information about what and where to shop in Bengalooru, India.
Commercial Street
One of the most frequented shopping places in Bangalore, Commercial Street is mainly famous for garments, hosiery and textile stores. Other items that can be found here include footwear, jewelry, sports equipments, travel gear, etc.
Mahatma Gandhi Road (M.G. Road)
Mahatma Gandhi Road, also known as the M.G. Road, combines the old age charm of Bangalore with the modern amenities. A multi-purpose shopping area, it provides a wide array of items, ranging from electronic equipments to textiles, books, silk saris, antiques, etc.
Brigade Road
Brigade Road is very popular amongst the youth of Bangalore. One can buy anything here, right from garments to electrical equipments, kitchen items, footwear, toys, etc. A must-see shop here is Poom Puhar, the Tamil Nadu handicrafts showroom.
Residency Road
Residency Road is mainly known for steel furniture and handicrafts. Apart from that, there are also a number of government handicrafts emporia here, namely:
Gangotri, the Uttar Pradesh Government Handicrafts Showroom
Gurjari, the Gujarat State Handicrafts Emporium
Mriganayani, the M. P. Government Emporium
Utkalika, the Orissa Government Handicrafts Emporium
Other Shopping Places in Bangalore
Arcot Srinivaschari Street (brass, silver and copperware)
Avenue Road (stationery, stainless steel ware and silver jewelry)
Chickpet (saris, jewelry, textiles, etc)
Iyengar Road (wood products, paper and electrical goods)
Richard Square in Russell Market (cutlery, crockery, etc)
After shopping through the lanes and by-lanes of Bangalore, if you feel that you have left out something that you ought to buy before leaving the city, then you may log in to the online shopping portals. Online shopping and gifting websites provide a wide range of items; you may buy and
send gifts to Bangalore
to your loved ones. Such online shopping websites provide you a wide range of collectibles, clothing, fashion accessories, gift baskets, gadgets and gizmos and many more.