>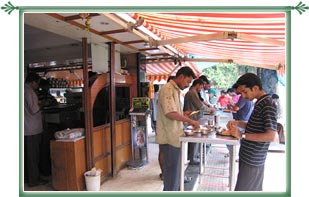 There are numerous options for eating out in Bangalore. The restaurants in the city offer cuisine belonging to almost each and every part of the world. Right from great food to luxurious ambience to easy access, the restaurants in Bangalore offer the best service. As far as the question of 'what to eat in Bengalooru' is concerned, there are a number of choices available, ranging from Indian to Chinese to Continental. If one hand, there are restaurants offering typical South Indian food, on the other, you will find the most exotic Thai dishes also being served.
In the last few years the character of the city has become cosmopolitan. This is mainly due to the fact that Bangalore is the main IT hub and houses offices of many multinational corporations. Foreign nationals from different countries work in these MNCs. As a result a large number of international cuisine restaurants have opened in Bangalore to cater to the expatriate population. Check out the list of popular
restaurants in Bangalore
.
Chinese